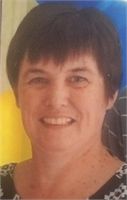 Dawn was a very important member of the Communication Team for this website.
Kimberley Dawn (Manderville) Waye, of South Esk, passed away on Saturday, November 5, 2016, at the Miramichi Regional Hospital, at the age of 54.
Born in Newcastle, she was the daughter of Edna (Flett) Manderville and the late Sterling Manderville. She worked as tourism administrative assistant for the city of Miramichi and was a member of St James & St John United Church, U.C.W., Rotary Club of Newcastle, and was also a former member of the Office Union Executive.
She will be sadly missed by her husband Steven; their two sons Brendon and Timothy both of Fredericton; mother Edna Manderville; two sisters Gay McKinnon (Rusty) and Beth Rossit (Gino) both of Miramichi; two brothers Bruce (Keltie) of Victoria, BC and James of Toronto, ON; parents-in-law Weldon and Margaret Waye of Miramichi; two brothers-in-law Sherman Waye (Susan) of Miramichi and Daniel Waye (Wendy) of Fredericton; and several nieces and nephews.
The family will receive relatives and friends from Northumberland Funeral Home, on Tuesday, November 8, 2016, from 2 to 4 and 7 to 9 pm. The funeral service will be held on Wednesday, November 9, 2016, at 1 pm, from St James & St John United Church, with Rev. Alice Szemök officiating.
As expressions of sympathy, donations may be made to the Canadian Cancer Society, Rotary Club of Newcastle, or to a memorial of one's choice.
Funeral arrangements are in the care of Northumberland Funeral Home, 102 Pleasant St, telephone (506) 622-7741
http://www.mightymiramichi.com/Community/Funerals/Details.aspx?f=28207